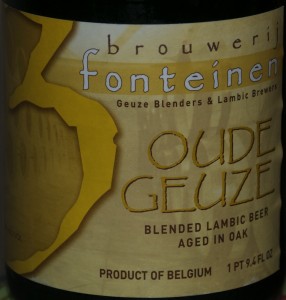 Beer:  3 Fonteinen – Oude Geuze
375 ml
Cost – $13.50 per bottle.  (about)
It's 25% 4-year-old lambic with the rest 1, 2 and 3 years old at the blender's discretion, I gather from the label.  40% unmalted wheat, spontaneous refermentation in the bottle, etc.
Holy #($#*& it's sour!  I'd guess it's about half lactic and half acetic in sourness contribution.
Cold from the fridge it's citrusy with the body mostly provided by the high carbonation coming out as warmed in the mouth.  Once the chill (and the shock) has worn off, it reveals its complexity as the traditional lambic horse-blanket aroma and other fruit flavours come out.  Definitely the hard-core end of the Gueze spectrum, the four-year-old by itself must be formidable.  It's great to taste lambic without fruit, or sugar, or artificial sweetener getting in the way of those whiffs that make you say "What fruit is that I just detected?"  The last sip reminded me of star fruit.
Anyway, wow. :  Sean Richens