Okanagan Spring Mild Winter Ale
Okanagan Spring Mild Winter Ale; 4.8% ABV; 341 ml bottle. Reviewed Saturday, December 1st 2012 by Jared Carlberg.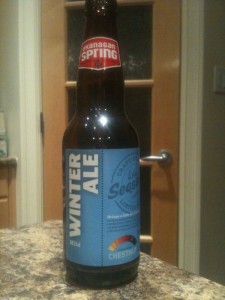 This winter ale has delicious roast and toast notes on the nose with reserved maltiness and no hop aroma. The beer is brilliantly clear in the glass, with a small white head but decent legs. According to Okanagan Spring, the colour is "chestnut", not as dark as a standard beer bottle but similar to a brown ale. The level of carbonation is moderate and would be excessive for a traditional winter ale, but this kid sister winter warmer gets away with it due to its limited body and relatively low alcohol content.
The roasted and toasted notes promised by the aroma are present but slightly muted in the beer's flavour. Mouthfeel is adequate but a bit thin. The beer is well balanced with moderate bitterness and malt character, a bit of hop flavour does come through on the finish, which is clean but with lingering toast notes.
Overall this is a relatively quaffable winter warmer; if you are used to a single bottle of Christmas beer being sufficient to drown out the caterwauling of carolers or sugar cookie fueled rugrats you should plan to drink at least two or three of these to achieve the same effect. It is an acceptable if pedestrian attempt at a seasonal. I grade this beer a 6 out of 10.